Dr. Knee's Total Support Knee Wrap
Joint and Knee pain got you feeling down? Our 360 Compression Knee Brace is meant to elevate your everyday fitness & well-being. Whether you're focusing on enhancing your fitness abilities or seeking major relief from joint pain or arthritis, this one's for you. The microfiber 3D elastic technology regulates blood circulation and provides extra support & balanced protection for your femur, tibia, and patella regions. No more joint pain!
Studies and reports have shown that your knees, at times, bear 5 times your body weight. Our 360 Compression Knee Brace supports and alleviates the pressure put on your knees. Protecting joints is crucial for avoiding long terms health issues like arthritis, bursitis or even dislocations.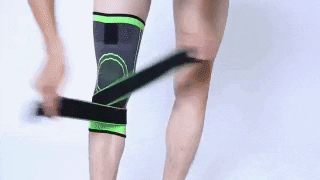 FEATURES:
Comfort - Lightweight, breathable & adjustable comfort fit with quadruple elastic stretch that won't roll, slide or slip. No skin irritation or itchiness.
3D Technology - High quality, anti-slip double stitching texture technology provides superior mobility, comfort & durability. Allows for hours of continuous use.
Design - Two adjustable, high-performance bi-directional compression straps allow for 360-degree protection for knees or patellas.
Protection - This brace retains warmth and provides comfort, superior flexibility & durability for daily wear.
Performance - Enhance Oxygenation of blood to increase muscle performance & accelerate recovery of injured muscles, joints, etc
SPECIFICATIONS:
Material: Nylon,Spandex,Latex
Package Includes: 1 x Dr. Knee's Total Support Knee Wrap