Snore no more

when you put on this powerful Anti-Snore Ring! Have a better, healthier sleep!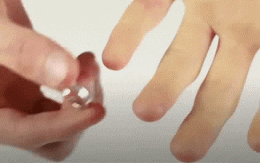 No annoying and uncomfortable methods involved, this magical trinket of an item is guaranteed to
solve your bothersome sleeping issue
. It uses the proven age-old principle of
magnetic acupressure therapy to eliminate snoring by freeing up the breathing airways to at least 80%
.
FEATURES:
Proven to Reduce Snoring - A medical survey among patients revealed that 15.6% to 19% admitted to low quality sleep accompanied by snoring symptoms. On the other hand, a study was conducted using the Anti Snore Ring and, in over 1000 test subjects, it was found to have effectively slowed and quieted down snoring in almost 83% of the subjects!
Helps Burn Calories - It even helps you slim down in the process! Having a hard time losing all those calories? Maybe you need some acupressure help. Yes, magnetic acupressure works to burn down excess fats, too!
Hassle-Free & Safe Solution - Simply wear it on the little finger of one hand — preferably the right hand for men and left hand for women. Do this at least an hour before going to bed. Just gently squeeze the ring in place to allow it to work on the acupressure points.
One Size Fits Most - It comes in a minimalist elegant design with an adjustable opening to fit your finger perfectly while targeting the right acupressure points.
Safe and Easy - Guaranteed safe with totally no side effects! Other expensive methods are often uncomfortable and bad for your health in the long run. BUT, here's a solution that's 100% safe and cost-efficient. Just wear it and feel the magic work!
SPECIFICATION
Material/s: Titanium Alloy, Stainless Steel, Magnets, & IP Plating
Size: Approx. 7mm x 2mm (Adjustable Opening)
Package Includes: 1 x Anti-Snore Ring